政治
US President Donald Trump arrived in Tokyo on Sunday for the first leg of his 12-day Asian trip. After delivering a speech at Yokota Air Base in western Tokyo, he enjoyed playing golf with Japanese Prime Minister Shinzo Abe.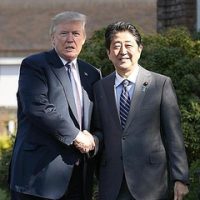 A handwritten note by Albert Einstein during his stay in Tokyo in 1922 sold for 1.56 million dollars at an auction in Jerusalem on Tuesday. He scribbled down his theory on happy living on a sheet of letter paper as a tip to a porter.

In Sunday's Lower House election, the ruling Liberal Democratic Party and its coalition partner Komeito won a two-thirds majority, which would allow them to push for a revision of the pacifist Constitution.

Yukio Edano, the deputy president of the moribund main opposition Democratic Party, has started preparing to form a new party for its liberal members, who are likely to be excluded from the Party of Hope led by Tokyo Governor Yuriko Koike.

Japan's Prime Minister announced on Monday to dissolve the lower house at the beginning of the extraordinary session this week, while Tokyo's female governor officially formed a national party to give voters an alternative to the ruling coalition in the upcoming general election.

US President Donald Trump called North Korea and a few other nations "rogue regimes" in his first speech at a UN General Assembly on Tuesday. He said his country may have to destroy Pyongyang if it threatens its neighbors.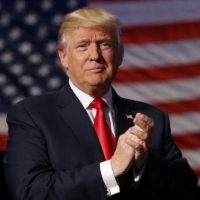 The special investigation squad of the Osaka District Public Prosecutors Office arrested the former head of an educational institution and his wife on Monday. The couple is suspected of illegally receiving public subsidies to build an elementary school in Osaka.

Japan's Defense Minister resigned on Friday to take responsibility for a cover-up scandal involving daily activity logs of GSDF units in South Sudan. The Foreign Minister has taken over her duties to serve the two posts until a Cabinet reshuffle scheduled for next week.

The Ministry of Justice announced on Thursday that it hanged two death-row inmates including a man found guilty of multiple murders in the 1990s, who had filed a retrial plea. The other inmate was convicted of killing a female colleague in 2011.

President Donald Trump announced on Thursday that the United States would withdraw from the Paris accord on climate change, which he views as an obstacle to his goal of creating jobs and promoting economic growth in his country.