政治
A woman in her 60s sued the government on Tuesday seeking 11 million yen in damages over her forced sterilization. She claimed that her human rights were violated under the now-defunct eugenic protection law.
Peru's President announced on Sunday that he had granted a medical pardon to Alberto Fujimori, the nation's former leader in the 1990s. He was serving a 25-year sentence for human rights abuses.

The government announced on Friday that the Emperor is set to abdicate on April 30, 2019, after a meeting of the Imperial House Council. His eldest son, the Crown Prince, will ascend the throne a day later.

A female legislator at a local assembly was forced to leave the chamber on Wednesday after she brought her infant son with her. She said she wanted to show the difficulty for women to juggle careers and child-raising.

US President Donald Trump arrived in Tokyo on Sunday for the first leg of his 12-day Asian trip. After delivering a speech at Yokota Air Base in western Tokyo, he enjoyed playing golf with Japanese Prime Minister Shinzo Abe.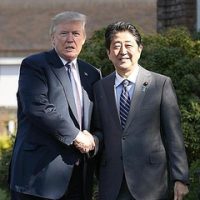 A handwritten note by Albert Einstein during his stay in Tokyo in 1922 sold for 1.56 million dollars at an auction in Jerusalem on Tuesday. He scribbled down his theory on happy living on a sheet of letter paper as a tip to a porter.

In Sunday's Lower House election, the ruling Liberal Democratic Party and its coalition partner Komeito won a two-thirds majority, which would allow them to push for a revision of the pacifist Constitution.

Yukio Edano, the deputy president of the moribund main opposition Democratic Party, has started preparing to form a new party for its liberal members, who are likely to be excluded from the Party of Hope led by Tokyo Governor Yuriko Koike.

Japan's Prime Minister announced on Monday to dissolve the lower house at the beginning of the extraordinary session this week, while Tokyo's female governor officially formed a national party to give voters an alternative to the ruling coalition in the upcoming general election.

US President Donald Trump called North Korea and a few other nations "rogue regimes" in his first speech at a UN General Assembly on Tuesday. He said his country may have to destroy Pyongyang if it threatens its neighbors.